Widely acclaimed solutions organisation Blockchain Australia Solutions partners with Blockchain Scaling solutions Matic Network
Wednesday, December 23rd, 2020 - Blockchain Australia™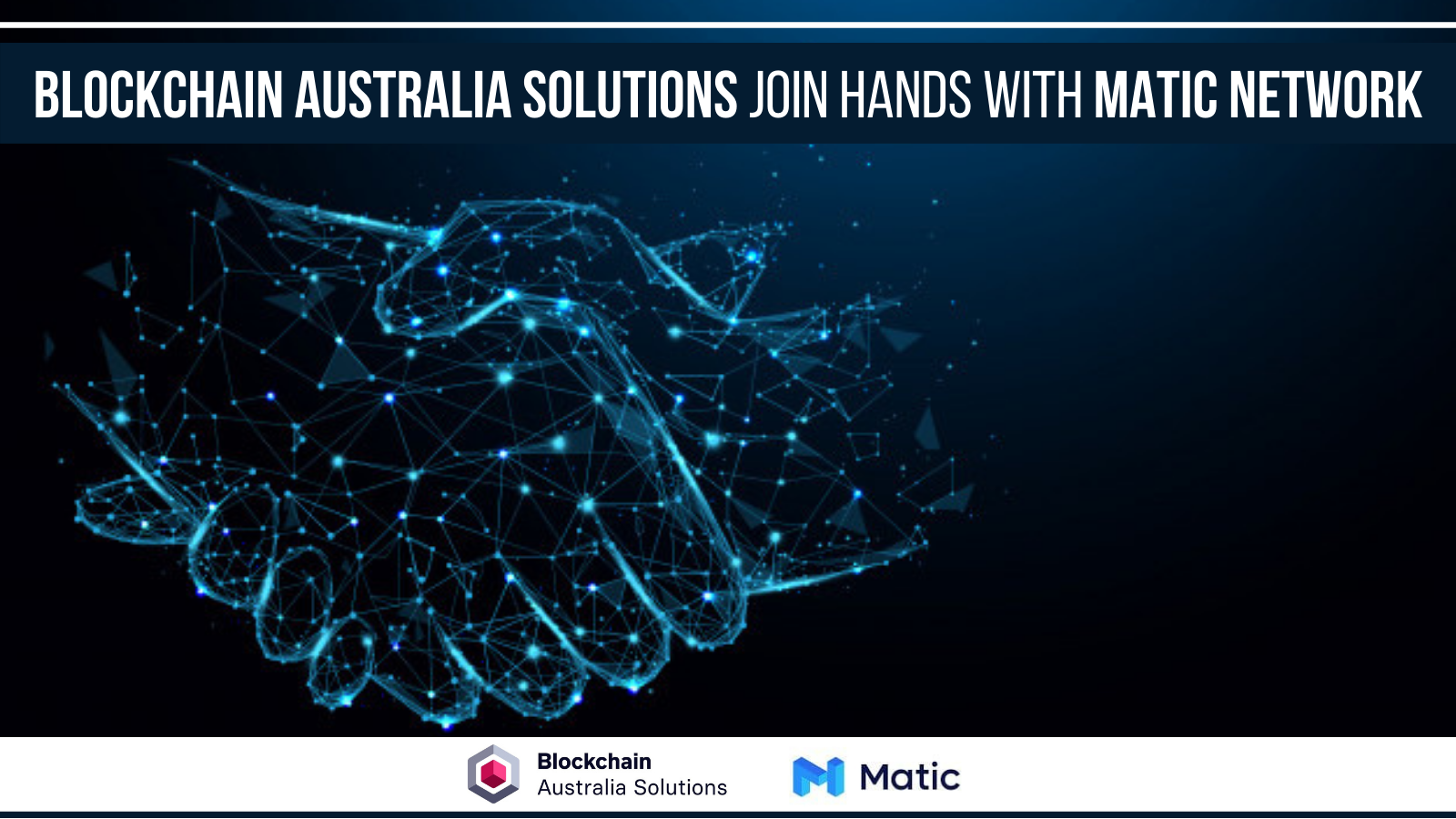 The much-celebrated blockchain solutions company Blockchain Australia Solutions has announced its partnership with blockchain scaling solutions company Matic Network, with the vision of solving issues of the world on a massive magnitude. 
Blockchain is a marvellous piece of technology that has been reshaping the world, one sector at a time. It shows the potential of vast applications in a variety of industries with decentralization, incredible data protection, and many other impressive features it possesses. It is operated by a decentralized network where transactions are validated on a peer-to-peer basis by multiple computers distributed worldwide, under no central authority's control. It also provides separate public and private keys for users cushioned by multiple security layers along with an immutable ledger, all of which work together to create a solid and somewhat impregnable firewall against cybercriminals. 
Despite the brilliant capabilities of the technology, blockchain has been facing a few dire issues when it comes to its applications - it has been difficult to scale on-demand, the transactions have been taking too long to be verified, the charges for backing the required computing power have been too high, and most importantly, it has been too complicated for the regular, non-technologically educated masses to use it because of its complexity. All these cause trouble while using the technology in industries with a large user base - like health and finance. Many companies have been trying to resolve this issue for a very long time, and finally, one company did -  the Matic Network. 
Matic Network uses a decentralized platform based on an adapted version of the Plasma architecture that provides a solution for quick and extraordinarily low-cost transactions with finality on the main chain. It uses Proof-of-Stake (PoS) mechanism in order to eliminate the race for solving math problems as well as the need for computation, which has been the main difficulty in the traditional Proof-of-Work mechanism used in blockchain. On top of that, this use of PoS checkpoints which are sent to the Ethereum mainchain ascertains liveness in the consensus mechanism. This not only exponentially reduces the time taken by each transaction verification, but also makes the system way more scalable. Currently, a single Matic chain can achieve up to 65,000 transactions per second, and possibly millions of transactions on multiple chains in the future. What is more, Matic also ensures smooth UX abstraction from mainchain to the Matic chain, making it much more user-friendly. Matic provides its own SDKs and APIs and allows its integration with any existing dApp in just a few simple steps, with the freedom to run the network using the already existing tokens.
For a long time, Blockchain Australia Solutions has been working dedicatedly with the ever-expanding Blockchain market and its multi-sector apps by designing customised and optimised solutions for its customers. The organisation provides a wide variety of services, from helping to create Blockchain strategies, to providing business and company-specific Blockchain-based solutions, to commodifying real-life assets such as art, venture capital funds and real estate into security token (STO) offerings. The company aims to transform markets, industries, and society as a whole with its innovative approach to various problems by offering creative solutions rooted in blockchain's disruptive technology. By partnering with Matic Network, the organisation zealously anticipates the same operations to be established on a much larger scale.
Blockchain Australia Solutions has been working fervently for a long while towards creating a borderless and global economy. Ralph Kalsi the founder of Blockchain Australia Solutions believes the partnership between the companies is a gigantic leap for the two organisations towards turning the same plan into a reality. This move is just a step towards a better and bigger future marked in blockchain; we expect a huge shift in the way industries with giant user bases run very soon.
Contact Profile
Blockchain Australia™
---
Blockchain Australia are the leading agency in blockchain application and development in Melbourne, Australia. Our blockchain consultants have years of experience and can provide tailored services for organizations and businesses. We provide many highly specialised services including blockchain wallet development, which is vital to businesses online.
Blockchain Australia is a blockchain marketing agency that specialises in implementing and developing blockchains. Blockchains are digital ledgers that stores and distinguishes every transaction and user. At Blockchain Australia we have a team of digital blockchain consultants that can help you and your company with every detail of our blockchain application and systems.
We have spent years developing our blockchain services so that they can be implemented in every industry possible. Our professional blockchain consultants have practised in providing end-to-end initial coin offerings and security token offerings for a variety of industries. Additionally, our experts have developed smart contracts, automated billing systems and blockchain POC (proof of concept) systems to cover all of a business's needs. More importantly, our digital blockchain consultants are well versed in cryptocurrency (like Bitcoin) and cryptocurrency wallet development and can ensure programs that are comprehensive and user-friendly to maximise transactions. You will not find a more experienced and professional marketing agency in Melbourne that is experienced in blockchain solutions. Get in Touch by calling … or email us today.
---
Ralph Kalsi
M: 0433426577
W:
blockchainaustralia.com.au/
Keywords
Blockchain Australia Solutions partners with Matic Network
Categories
Newsrooms
Sharing
More Formats
View QR Code