Emergency Kits - Where Can I Find the Gear I Need?
Friday, November 27th, 2020 - Emergency & Bushfire Kits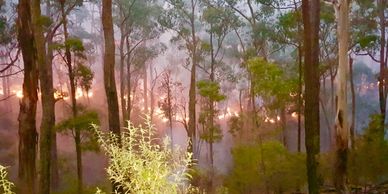 The storm and bushfire season has arrived in Australia, with timely reminders by Emergency Services, for residents and businesses get ready.
Great advice like: create or update your emergency kit, what it should contain, prepare your home and property and much more. 
However, many with good intentions will head to their local hardware store, supermarket etc to grab items for their Emergency Kit, only to discover they can't locate many of the items they need: AM/FM Radios, wool protection blankets, waterproof power-banks and more...
If you live in Regional Australia, some of the highest risk areas of our ever more frequent natural disasters such as bushfires, storms, floods & power outages, you may need to go to half dozen stores or more, many hours of driving and at high cost.
Emergency & Bushfire Kits has you sorted, we're an Aussie owned and operated, online store, delivering to all of Australia, with the largest range of Emergency Kits - 90+ options and safetyl gear.
With Kits for: Urban Emergencies, Storms, Pets, Camping, Bushfires, Vehicles and more, with the ability to choose the number of persons or animals you want the Kit to support (between 1 and 6) and a range of budget/needs - Essential, Standard & Premium Kits.
If that's not enough, every product is also available for sale separately, so you can Build-Your-Own-Kit, to meet your areas risks and households needs
Every Kit also includes a clipboard, marker pen and 4 laminated/reusable documents;
Relocation/Evacuation Checklist - dont forget your medicine and phone chargers....
Advice on sheltering in place (Too late to leave) both fires and storms - should I shelter in a bathroomor is that the most dangerous place for some emergencies?
Notice to Emergency Services- let them know you've evacuated & anyone

unaccounted for

Evacuation Planning Map
All to assist in prompt and safe relocation or evacuation.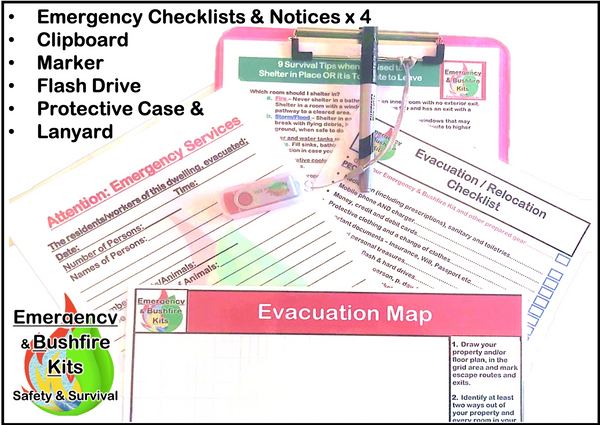 At EmergencyBK, we believe that a well prepared and quickly evacuated community, not only reduces rthe risks to residents, but also protects emergency services personnel, who can spend more time focused on fighting or containing emergencies, not trying to locate or getting residents to evacuate. 
EmergencyBK products and kits are aligned with advice from all State and Territory rural fire & emergency services, to ensure that where ever you live in Australia, whatever your risks, needs or household size, we can help you prepare for the months ahead.
Not just survival gear - helping Aussies, help themselves.
Video
File Library
Contact Profile
Emergency & Bushfire Kits
---
Emergency & Bushfire Kits, provides a fantastic range of emergency kits, survival gear & safety/evacuation advice, in an online store, supporting a range of disaster situations, across Australia.
Comprising quality and affordable products, aligned with the rural fire and emergency services guidelines, for storms, bushfires, floods and more.
Kits & equipment for humans & pets, homes & businesses, camping & vehicles, rural & urban - helping Australians navigate risks, evacuate safely, extend endurance and increase chance of survival in the face of ever increasing natural disasters and emergencies.
Website and Store: www.EmergencyBK.com.au
---
Bridie McLennan
P: 0438613629
W:
www.EmergencyBK.com.au
Keywords
Emergency Kits, Bushfires, Preparedness, Survival Gear, Storm Kits, Flood Safety, Camping Survival, Vehicle Breakdown, Fire Ready Kit, Urban Emergency Equipment, Australia Natural Disasters, Evacuation Planning,
Categories
Newsrooms
Sharing
More Formats
View QR Code