Australian Made Lung Device Links Sale Surge To COVID-19
Tuesday, July 14th, 2020 - AirPhysio Pty Ltd
AirPhysio, an Australian made respiratory device, has been one of a small handful of Australian businesses to benefit significantly from the COVID-19 pandemic. It is attracting attention worldwide, especially from the greatly affected USA, and is turning into a real success story as people look at all options available to treat the virus should they become infected. And the testimonials have been outstanding.
AirPhysio (short for "Airway Physiotherapy") is a hand held device that uses Oscillating Positive Airway Pressure (OPEP). Very simply, a person blows into the device and a vibration from a ball bearing in the device causes the lungs to expand and shake out mucus and contaminants through natural coughing. This also enables the lungs to also bring in more oxygen.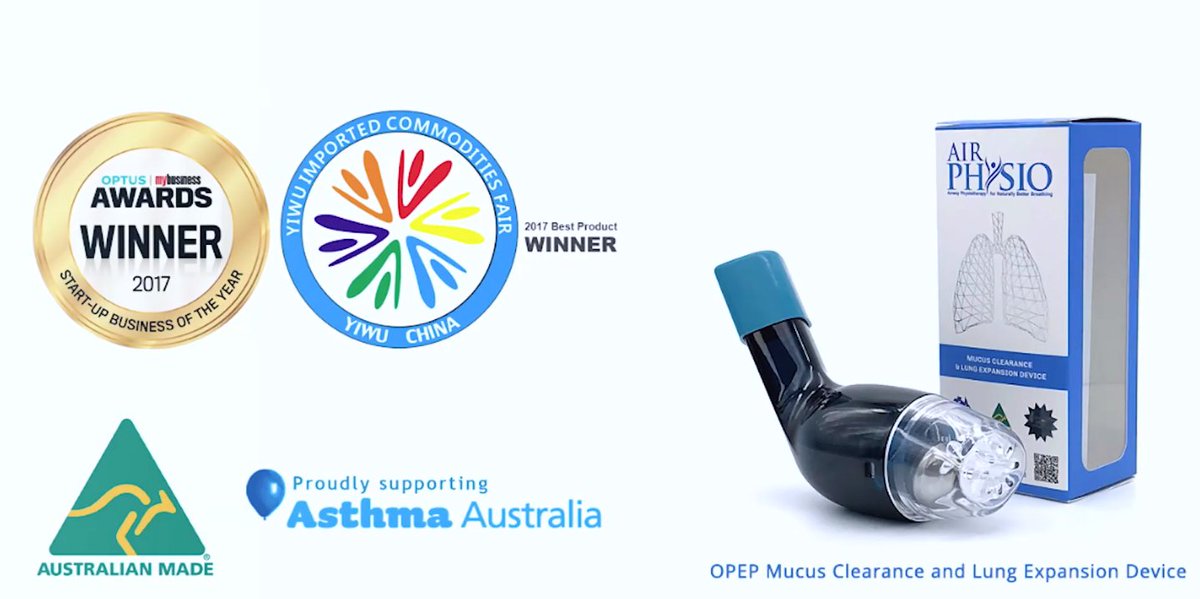 The device helps to clear and expand the lungs assisting anyone suffering from a range of respiratory conditions – asthma, COPD, cystic fibrosis, influenza, bronchiectasis, emphysema and black lung for example. It can even be used to remove ash, smoke and other pollutants that become trapped in the lungs. AirPhysio is quick to point out that the device does not necessarily replace medication, but compliment it by increasing its effectiveness.
Although many of the effects of COVID-19 are still being determined, sales are booming worldwide because of AirPhysio's ability to help those with lung difficulties such as pneumonia.
Steve Owen, Director of Airphysio says interest from the overseas markets in particular, due to the sheer volume of COVID cases, is increasing day by day.
"The interest and demand in the device over the last four months has been staggering. We are selling thousands of devices every month in the USA and only last month sent a first order of 2500 to Vietnam as the South East Asian market ramps up. We are also selling large numbers in Europe and New Zealand".
Paul O'Brien, Managing Director (and designer of the device) quoted "We started as a cottage industry just working out of mine and Steve's houses, in Tweed Heads and the Hunter Valley up until the New Year. We have had a massive boom, set up a new office near our suppliers on the Gold Coast and every day speak with both customers and distributors around the globe. We have gone from under 1000 sales a month up to 7500 in April".
Paul O'Brien quoted "All along we have just been on a mission to raise the awareness of these devices and help as many people as we can. We have had to overcome alot of obstacles along the way to make this happen and people are seeing how passionate we are. Long after COVID-19 is gone we will still have a huge market for the device".
The device has already won many awards including Best International Product at the Yiwu International Fair in China and the company itself won "Best Startup Business" at the Optus My Business Awards in 2017.
There is much more publicity to come for the company with exciting times ahead.
AirPhysio has just reinforced its partnership with Asthma Australia who they have been working with for some time. There is also a deal with a high profile US marketing company who are putting together some TV commercials in the next few months with a US TV campaign to be launched around October. Those commercials will also be shown worldwide online. They follow on from a TV appearance in the US on "Modern Living with Kathy Ireland" last year.
-Ends -
Video
File Library
Contact Profile
AirPhysio Pty Ltd
---
About AirPhysio Pty Ltd
AirPhysio is a lung expansion and mucus clearance device. The device is Australian designed, made and owned and started development in September 2015 after identifying a gap in the market and need for a medication free option for helping to open up and expanding the lungs for conditions. Improving on 30 year old technology and using the highest grades of materials, AirPhysio has brought OPEP devices into the 21st century.
AirPhysio Pty Ltd
Shop 3, 47 Tweed Coast Road
Cabarita Beach, NSW, 2488
---
Paul O'Brien
M: 0402 632 726
W:
www.airphysio.com
Keywords
Asthma, COVID19, COPD, Respiratory, Lung Health, Influenza, Bronchitis, Cystic Fibrosis, Pneumonia
Categories
Newsrooms
Sharing
More Formats
View QR Code