14th Annual Christmas Day BYO Picnic Lunch in Melbourne 2019
Monday, December 23rd, 2019 - Newcomers Network
14th Annual Christmas Day BYO Picnic Lunch in Melbourne 2019
https://christmasdaybyopicniclunchmelbourne.eventbrite.com.au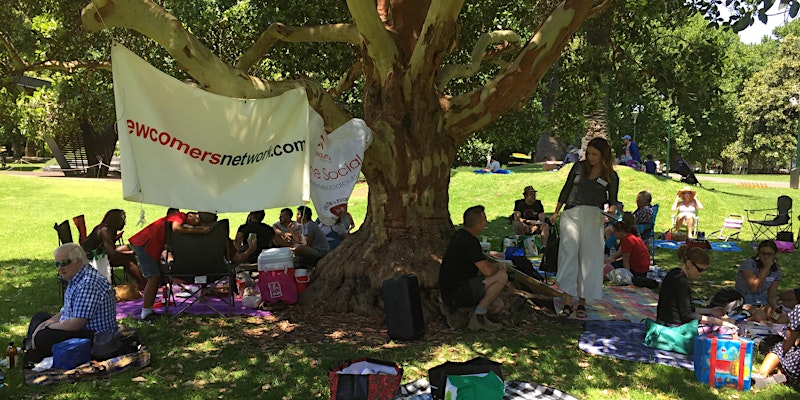 ***Everyone welcome - including newcomers, expatriates, repatriates, migrants and international students to Melbourne, Christmas Day orphans, people who are single, married, couples, families, students, tourists, migrants, local residents, Australian citizens, children, adults, young or old, any faith or religion - if you are looking for an alternative option for Christmas Day please join us - this event will go ahead - rain hail or shine. Free to attend, bring your own food and wear your own name tag.***
Christmas Day can be a lonely occasion if you are a long way away from family and friends.
It is also difficult if the traditional rituals cannot be recreated - as far as I know, there has never been snow in Melbourne on Christmas Day!
Even if you do not normally celebrate this religious occasion, it is still nice to have 'something to do' on Christmas Day as plenty of people at work will ask you 'what are you doing for Christmas?'
History
The tradition of the Bring Your Own (BYO) Picnic Lunch on Christmas Day was suggested in 2006 by Lise Saugeres, a French migrant who had moved to Melbourne to Sue Ellson, the Founder and Director of Newcomers Network. The first Christmas Day Picnic lunch was held in St Kilda (by the beach on a freezing cold and wet day) but moved to the Queen Victoria Gardens at 99 St Kilda Road (opposite the NGV) in 2007 and it has had very good weather ever since. One year, it did rain for a little while but people stayed with their umbrellas. It was also personally helpful to Ms Ellson as she doesn't return to Adelaide for Christmas and a lot of her international friends have other plans on Christmas Day. She attends with her own children.
In 2011, Sue Ellson from Newcomers Network started co-hosting the event with Ian Wood from the Fun, Food and Friendship Melbourne Social Club.
In 2019, Ms Ellson and Mr Wood will be hosting the 14th Annual Christmas Day Bring Your Own Picnic Lunch in Melbourne.
They usually have between 70 - 150 people attending - bringing bikes, footballs, cricket bat and balls, frisbees, dogs, friends or coming on their own.
This annual event is open to everyone, but it is specifically designed for people who have moved to the city, international students, tourists and anyone who is a Christmas Orphan and is away or estranged from their family or friends on Christmas Day.
In the past, the events have also welcomed local people including single parents and their children, older singles, young singles, couples looking for something different to do, carers of people with a disability, people with dogs on a lead, people whose parents have passed away, homeless people who do not want to be at a charity event and people who have not received an invitation to join a celebration with anyone they know.
Interestingly, the events have also attracted people who do not celebrate Christmas as a religious occasion (Muslim, Hindus, Buddhists etc) but would like to do something different in their local city.
Guests need to bring their own refreshments (food and drink) that they can either have themselves or share with other guests. They are also encouraged to wear their own name tag (any type will do – even just paper and a pin), be sun smart (hat, sunscreen, shirt) and bring a football, frisbee, cricket bat and ball or any other outdoor activities as well.
Everyone mixes and mingles and in 2009, two single people met, in 2010 they spent Christmas together holidaying in the Grampians, in 2012 they announced their engagement and they were married in 2014. In 2016, they attended the Melbourne picnic with their one year old daughter. There is also a small group of regulars who come every year and one person has been hosting an 'After-Party' in the Docklands as well.
Guests are encouraged to register online to confirm the details of the picnic – even if it rains, the event will still be on (just remember to bring an umbrella or a raincoat!).
Newcomers Network is an independent, social enterprise funded by consulting services provided by Sue Ellson in Melbourne, Australia providing information, events and advocacy for newcomers since 2001. The NewcomersNetwork.com website provides free information for people who have moved and Sue has personally provided a free Living, Working and Networking in Melbourne live event on the Second Wednesday of every month for over 14 years which is designed for anyone who has moved to or returned to Melbourne (mostly working with English speaking arrivals who miss the opportunity to connect through English language classes). In 2020, Sue Ellson will be repeating her 2004 international research project to compare and contrast the data on newcomers back then and newcomers now. Sue Ellson is also the author of four non-fiction books on the topics of LinkedIn, Careers and Business, Hyper Local Marketing and Gigsters https://120ways.com
What to Bring
• a name tag with your own first name on it
(a simple sticker or piece of paper and safety pin or string will do)
• hat, sunglasses, sunscreen (maybe even a Santa hat or something red and Christmassy)
• whatever you would like to eat, drink and share (including water)
• picnic mat, blanket and/or chair to sit on (if you have one)
Public Transport
Public transport is free in Melbourne and will be running to the Sunday timetable. The nearest train station is Flinders Street Station. You can catch the tram one stop along St Kilda Road (stop 14) and then walk across the road to the park. We will be under a big tree next to three palm trees and you will see the Newcomers Network banner hanging from the tree. There is a public toilet close by on the corner of St Kilda Road and Linlithgow Avenue (stainless steel building).
Finding the Group
Whilst Newcomers Network can never be 100% certain as to how many people will turn up on the day, as this is their 14th year hosting the picnic, they are expecting quite a lot of people (and a few regulars from past years). So far, over 200 people have registered to attend.
Please do not be daunted – everyone sits in small groups and if guests arrive on their own, Ms Ellson or Mr Wood will happily introduce them to others (Ms Ellson wears a silver sparkly Santa hat) and they can provide a sticky label name tag if you forget to bring your own. Everyone always has a bit of extra food, so guests can always enjoy a little something unique.
Christmas Day Picnic Lunch Videos
- fun spy version https://www.youtube.com/watch?v=Mf4faEZEn4Y
- longer descriptive version https://www.youtube.com/watch?v=fbOHENost6w
- video from 2018 picnic https://www.youtube.com/watch?v=QD3RaFKQEcs
Venue
Queen Victoria Gardens
Under the big tree next to three palm trees and close to MPavilion
opposite the National Gallery of Victoria (building with a water feature)
99 St Kilda Road,
Melbourne, Victoria, 3000, Australia
Latitude -37.821314 Longitude 144.969850
Remember that everyone is welcome!
Register Online
To receive an email confirmation and reminder notification with directions, please register at https://christmasdaybyopicniclunchmelbourne.eventbrite.com.au
More Information and Media Enquiries
Sue Ellson (pronouned Sue "Ell - son" - no letter 'i' in the middle)
Founder and Director of Newcomers Network
+61 402 243 271
https://newcomersnetwork.com
https://www.linkedin.com/in/sueellson
https://sueellson.com
sueellson [at] newcomersnetwork.com
Ian Wood
Director of Fun, Food and Friendship Melbourne Social Club
+61 421 883 973 
https://funff.com.au
info [at] funff.com.au

More background information for journalists
What sorts of people do not have something to do on Christmas Day? 
Many Australians kindly donate their time before Christmas and on the day to people who are homeless but surprisingly, there are many other people who need companionship on Christmas Day. Most people at work will ask you 'what are you doing for Christmas' or 'what did you do for Christmas' so it is really nice to be able to say that you enjoyed a nice relaxed picnic in the park.
Many places are also closed on Christmas Day or are very expensive. So we have found all sorts of people who join us at these events including migrants without local families, expatriates, repatriates, international students, singles, single parents who have been ostracised by friends and family, people with disabilities, people with dogs, local people and families who have family interstate or overseas. Anyone who attends a free event is generally motivated to have a great time and is willing to chat.
Likewise, even if people do not attend, if they know that they 'could have' gone somewhere, this is also a comfort.
What about shy people who may be coming on their own?

It takes a lot of courage for some people to attend an event on their own. But once they are there, they will be welcomed and encouraged to mix and mingle with the other guests. It is important to simply talk or even just ask questions – start with easy topics like the weather or 'what do you love about this city' and the rest will follow (don't start with questions about where you work or live or what car you drive!).
How is the food worked out?

Everyone just brings some food that they can either eat themselves or share with others. At the first picnic, one young male student came with an egg sandwich. At another, a woman came with a large bag of fresh prawns! Sharing your food gives you an opportunity to meet more people. Children can bring along sports equipment to play with and pets are welcome provided they are on a lead.
Do people drink alcohol?

Some people do bring alcohol and drink it but no one has ever become intoxicated and there is no obligation to drink alcohol.
Do people who are not Christian attend?

Yes, this is an event open to anyone who would like to attend. It is held on a 'religious' day – Christmas Day on 25th December each year – remembering the birth of Jesus Christ. However, we have welcomed people of all faiths including Islamic women wearing the hijab.
We have also had people with disability who find the normal indoor environment and family gathering stressful. And many others – students, expatriates, migrants, tourists etc
What about people from the LGBTI community?

In 2014 we had a call from Anne, a community development officer asking if the event would be open to people who identify as LGTBI. I simply told her that anyone who would like to attend can attend. Apparently there was a local venue that had previously hosted an event but due to a lack of numbers, decided not to run it again.
How do people find the group?

The group will be meeting under the tree in the Queen Victoria Gardens at 99 St Kilda Road in small seated groups. Guests just need to look for the group of people wearing name tags between 12pm and 3pm.
Is there anything else they need to bring?

Your own name tag and all the standard things for a picnic – a picnic mat, chair if you wish, hat, sunscreen, water to drink etc. The dress code is 'informal' or 'relaxed.' Just be sun smart.
Why do you offer this event Sue Ellson?

I moved to Melbourne from Adelaide and I don't have any close family here. As an Australian, I can say that we are friendly people but we don't always make time for new people to come into our life. Unlike other expatriate locations, we do not have a range of expatriate communities as new arrivals, when they move to Australia, are expected to mix with locals. I have personally found that most of my friends in Melbourne come from other countries and I find that other newcomers find friends in a similar way, although many would really like to mix with other Aussies.
Why did you set up Newcomers Network?
As a result of my own experience and challenges of moving from Adelaide to Melbourne in 1994. Newcomersnetwork.com has been online since 2001 and we share information, details of events and advocate for the needs associated with newcomers.
I am an independent publisher of information and support the enterprise through other consulting work helping people find work, updating their LinkedIn profile, training, marketing and business advice for various businesses and professional associations. I also teach at various educational facilities and have written four books.
I love helping newcomers because I believe that they are more courageous than people who climb Mount Everest.
Why are newcomers courageous?
Well they simply leave everything they know, all their networks, friends, family, work, social, sporting etc and start all over again. Their food, housing, transport, shopping – everything is different.
It can be incredibly lonely, stressful on relationships (when you rely on just a few people rather than extended family and friends) and it takes time to regain this level of support. Like any challenge in life, if you apply a strategy rather than react emotionally, you have a much higher chance of success.
What other options are available for newcomers on Christmas Day?
A range of Christian communities offer local events that are nearly always open to everyone. Local newspapers and council websites often provide additional suggestions.
For Christmas Day, you can also do an internet search for 'Christmas Day 2019' and also your location - for example, 'Christmas Day 2019 Melbourne'. Alternatively you can visit event listing websites such as:
eventbrite.com.au
meetup.com
weekendnotes.com
onlymelbourne.com.au
whatson.melbourne.vic.gov.au
(just make sure the venue/activity is actually open on Christmas Day, not an event running from x date to y date)
Video
File Library
Contact Profile
Newcomers Network
---
Newcomers Network (started in 1999) www.newcomersnetwork.com is an independent provider of information, events and advocacy for people who have moved to Melbourne, Sydney, Adelaide, Brisbane or Perth and has been online since 2001. We host free Living, Working and Networking events on the Second Thursday of every month. You can also find us on Twitter, Facebook and LinkedIn.
---
Sue Ellson
P: +61402243271
W:
www.newcomersnetwork.com
Keywords
Christmas Day BYO Picnic Lunch, Things to do on Christmas Day, Where to go on Christmas Day in Melbourne
Categories
Newsrooms
Sharing
More Formats
View QR Code