Asia Pacific Dredging Market: Outlook Bullish, Albeit Environmental Impact Gains Center Stage
Wednesday, August 29th, 2018 - Fact.MR
Expansion of sea port and increasing government investment for seaborne infrastructure to be driving factors for Asia Pacifc dredging market. According to a report by Fact.MR on dredging market, importance of dredging has been increasing to ensure safe docking of fishing boats, cargo ships, passenger boats, and other vessels used in international water bodies. In the Asia Pacific region, rise in number of international tourists and beach replenishments has been fuelling the growth of dredging market. In addition, expansion of population in coastal areas coupled with risk of natural calamities due to rising sea level is expected to gain high traction for dredging market in this region.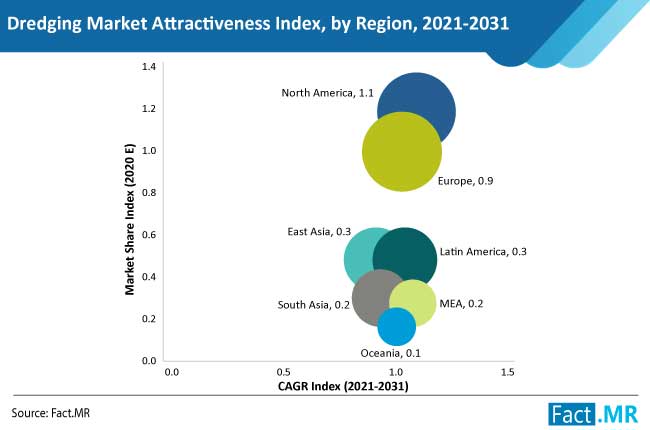 According to the Fact.MR report, in terms of revenue, Asia Pacific Excluding Japan (APEJ) dredging market is likely to surpass US$ 6 Bn in valuation. In this region, dredging market is expected to remain concentrated in China followed by Singapore and India. With an increase in number of tourists, dredging application in protective and recreational function of the beach is expected to witness a robust growth during the forecast period. Fact.MR's study finds that increasing requirements of dredging activities in land expansion and urbanization will pose a positive development in Asia Pacific dredging market. In addition to urban development, dredging activities is gaining increasing momentum in energy infrastructure.
Get a sample of the report on dredging market at https://www.factmr.com/connectus/sample?flag=S&rep_id=922
On the basis of end-user, Asia Pacific dredging market is making inroads in government activities and Oil & Gas companies at a higher pace. Expansion of the dredging market among renewable and other related industries is also expected to increase significantly in the coming years.
The market intelligence study offers detailed analysis and key insights on global dredging market for the period between 2017 and 2022. It is expected to register a modest CAGR of 2.7% during the forecast period. Asia Pacific will continue to possess its dominant position in global dredging market with Europe and Middle East & Africa complementing the growth. In the recent past, several initiatives have been taken by global leaders and government to improve the dredging activities which is likely translate into growth opportunities for the market.
Request methodology used to arrive at estimates and forecast at https://www.factmr.com/connectus/sample?flag=RM&rep_id=922
Fact.Mr's study indicates that dredging activities related to urban development will hold the highest revenue share owing to growing population in cities. Further, increasing activities of global trade through sea will emphasis dredging activities in trade maintenance and trade activity.
Oil & gas companies is expected account for major revenue share in global dredging market, second to that of government related activities in maritime infrastructure, global trade, and urbanization. The Fact.MR's reports provides insights on the key players participating in global dredging market. Some of the leading players which have operational span across the world are Boskalis, China Harbour Engineering Company, Van Oord, Deme, Jan De Nul, Great Lakes Dredge and Dock, National Marine Dredging Company, and Hyundai Engineering and Construction.
The report is available of purchase, buy now at https://www.factmr.com/checkout/922/S
Contact Us
Mr. Rohit Bhisey
Fact.MR
11140 Rockville Pike
Suite 400
Rockville, MD 20852
United States
Email: [email protected]
SOURCE: Fact.MR
Contact Profile
Fact.MR
---
Fact.MR is a fast-growing market research firm that offers the most comprehensive suite of syndicated and customized market research reports. We believe transformative intelligence can educate and inspire businesses to make smarter decisions. We know the limitations of the one-size-fits-all approach; that's why we publish multi-industry global, regional, and country-specific research reports.
---
Rohit Bhisey
M: +91-9552544427
W:
www.factmr.com
Keywords
Asia Pacific Dredging Market, Dredging Market in Asia Pacific, Asia Pacific Dredging Industry, Outlook on Asia Pacific Dredging Market.
Categories
Newsrooms
Sharing
More Formats
View QR Code