Asia Pacific Tapioca Starch Market: Indonesia to Remain Lucrative, On-Farm Use as Animal Feed in China and Vietnam to Complement Growth
Friday, August 24th, 2018 - Fact.MR
Growing emphasis on agriculture sector's development in agro-based countries of Asia Pacific (APAC) has led the appeal of sustainable investment in the cassava sector, which aligns with effectiveness and efficiency of meeting social and economic goals. This directly contributes to growth of the tapioca starch market in the region. The role of tapioca starch in food security declined post-Green Revolution Asia, however it continues to remain significant in times of food shortages, political unrest, and various disruptions in food supply.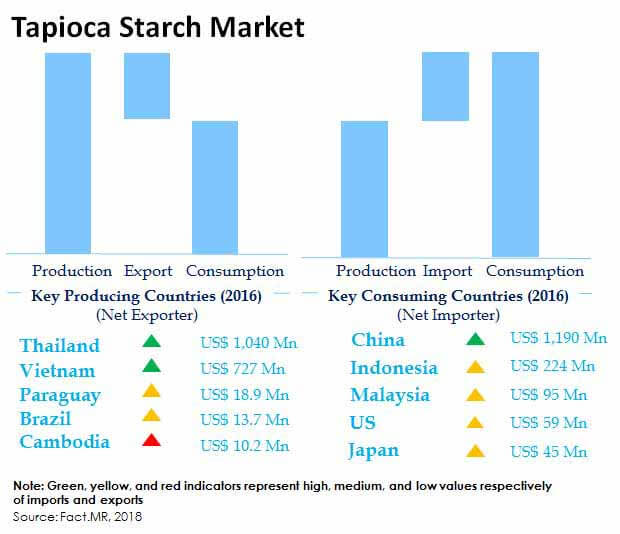 According to the Food and Agriculture Organization (FAO), Indonesia presents a relatively higher consumption of tapioca starch – nearly 50kg per capita annually, employed across a wide range of food products. Additionally, Vietnam and China have been witnessing a rapid growth in on-farm use of tapioca starch as animal feed, and the status quo is expected to persist in the foreseeable future.
Request a Sample of the Report - https://www.factmr.com/connectus/sample?flag=S&rep_id=844
A recent Fact.MR study foresees revenues from the tapioca starch market in APAC, which has been divided in Asia-Pacific excluding Japan (APEJ) and Japan, to exceed US$ 2,000 Mn by 2028-end. Majority of the APAC's tapioca starch market is expected to remain concentrated in APEJ, wherein the market is projected to register an impressive CAGR of over 6.0% through 2028.
Overall growth of the tapioca starch market worldwide has been envisaged by the study to record an impressive value CAGR during the period of forecast 2018 to 2028. Discerning the rise in requirements of end-users, leading stakeholders have developed a wide variety of tapioca starch. Tapioca flour and tapioca pearls continued to remain preferred over other forms of tapioca starch among end-users. The study estimates these tapioca starch variants to record a parallel sales growth through 2028. Demand for tapioca pellets is expected to flourish, outpacing sales of all the other tapioca starch forms over the period of forecast.
For Exhaustive Information on Market Trends - https://www.factmr.com/report/844/tapioca-starch-market
Tapioca starch seeks extensive applications across a wide range of areas, ranging from animal feed to food & beverage. Demand for tapioca starch in processing industries that include wood, paper, and textile, will increase at a relatively faster pace, yet supremacy of food & beverage industry in terms of revenue share will remain incontestable over the period of forecast.
North America continuous to lead the tapioca starch market, with bulk shares of the market in terms of both value and volume. However, the tapioca starch market in Europe is expected to register a comparatively faster growth through 2028. Growing trend of gluten-free food products in North America, along with significant prevalence of celiac disease continue to remain key growth driver for the tapioca starch market in the region. In Europe, growth of the tapioca starch market will remain influenced by the Free Trade Agreements with the third-world countries.
Purchase this Report - https://www.factmr.com/checkout/844/S
Undesired cereal flavor, lower tendency to gel, and cloudy appearances associated with potato and corn starch have opened lucrative opportunities for their alternatives – tapioca starch. Excellent functional traits of tapioca starch, which include clarity retention property, complete dissolution along with high viscosity, persistent quality during reheating & freezing process, and resistance to longer cooking period, have further proliferated their adoption in the food & beverage industry, thereby underpinning their market growth.
Contact Us
Rohit Bhisey
Fact.MR
11140 Rockville Pike
Suite 400
Rockville, MD 20852
United States
Email: [email protected]
Contact Profile
Fact.MR
---
Fact.MR is a fast-growing market research firm that offers the most comprehensive suite of syndicated and customized market research reports. We believe transformative intelligence can educate and inspire businesses to make smarter decisions. We know the limitations of the one-size-fits-all approach; that's why we publish multi-industry global, regional, and country-specific research reports.
---
Rohit Bhisey
M: +91-9552544427
W:
www.factmr.com
Keywords
tapioca starch, tapioca starch market, Asia Pacific tapioca starch market, tapioca starch manufacturers, cassava production statistics,
Categories
Newsrooms
Sharing
More Formats
View QR Code