What do CEOs care about for growth in 2018?
Wednesday, February 28th, 2018 - Step Change
Step Change, a strategy led marketing agency based in Sydney, has released a survey of 133 CEOs, Directors of Marketing and Sales, and CMOs to find out where companies are likely to invest for growth. They found that most young executives are aiming to increase investment across the board more than older executives. They also found it interesting that smaller cities like Adelaide are more adventurous in terms of virtual reality or augmented reality than Sydney or Melbourne.
The highlight of the survey reveals the key areas where business leaders plan to invest to grow their businesses this year.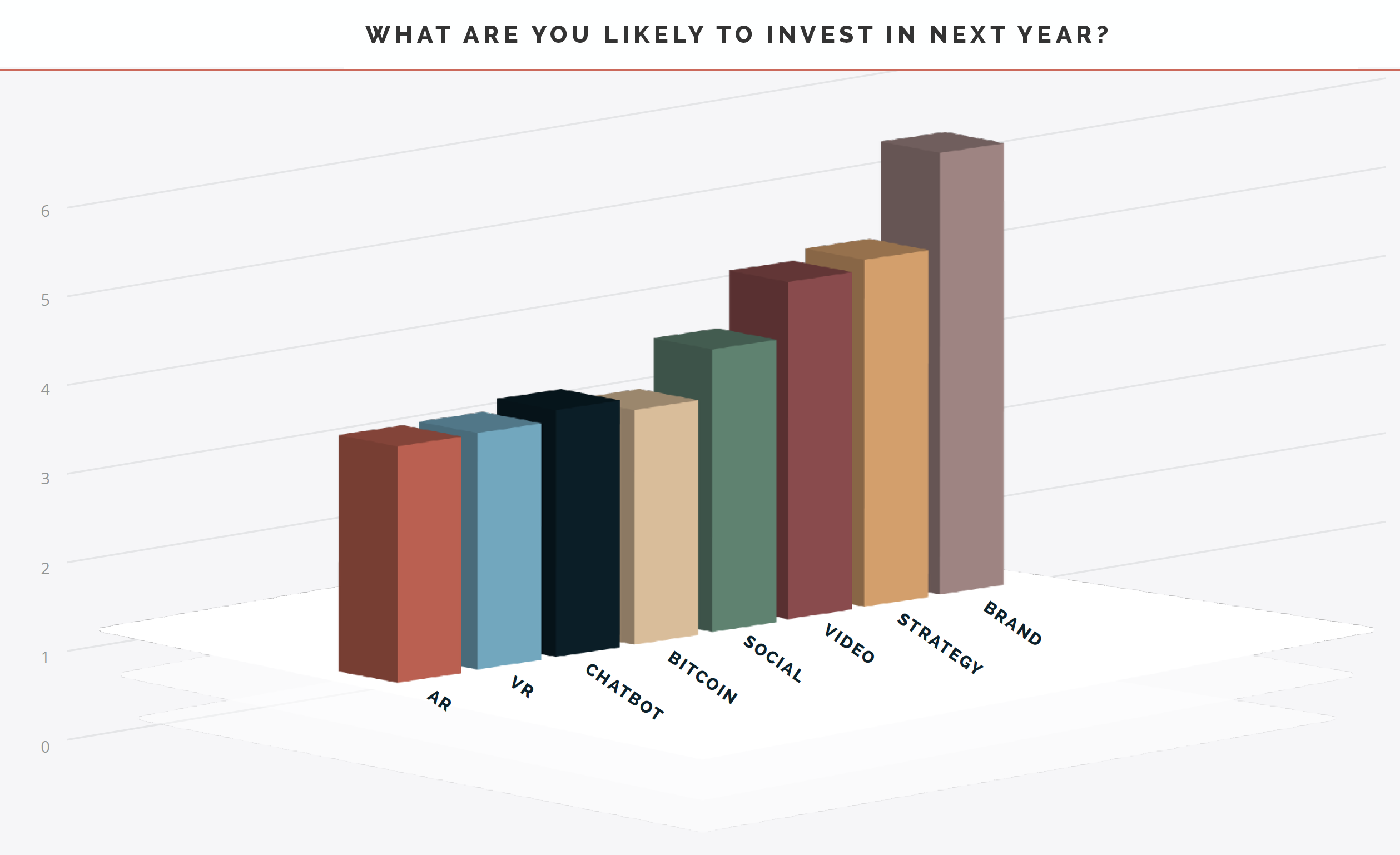 When the data is broken down by age, state, industry, there are consistencies across the country. 41% of CEOs and CMOS were very likely to invest in their brand, and 27% in their strategy. CEOs are looking to invest in their brand over sales enablement or brand over product development.
Robert Steers, a partner at Step Change said "Companies know that in order to grow, they need a strong brand and a clear strategy. Brands need to be authentic and should emanate from every part of what a company does. We always know a great brand when we see one because it is consistent and has a strong and appealing point of view. " he continued, "The interesting thing about strategy falling second in investment priority is that none of the trending channels or technologies came close. This is because executives know that in order to maximise the use of resources, they have to make strategic choices about where to deploy them."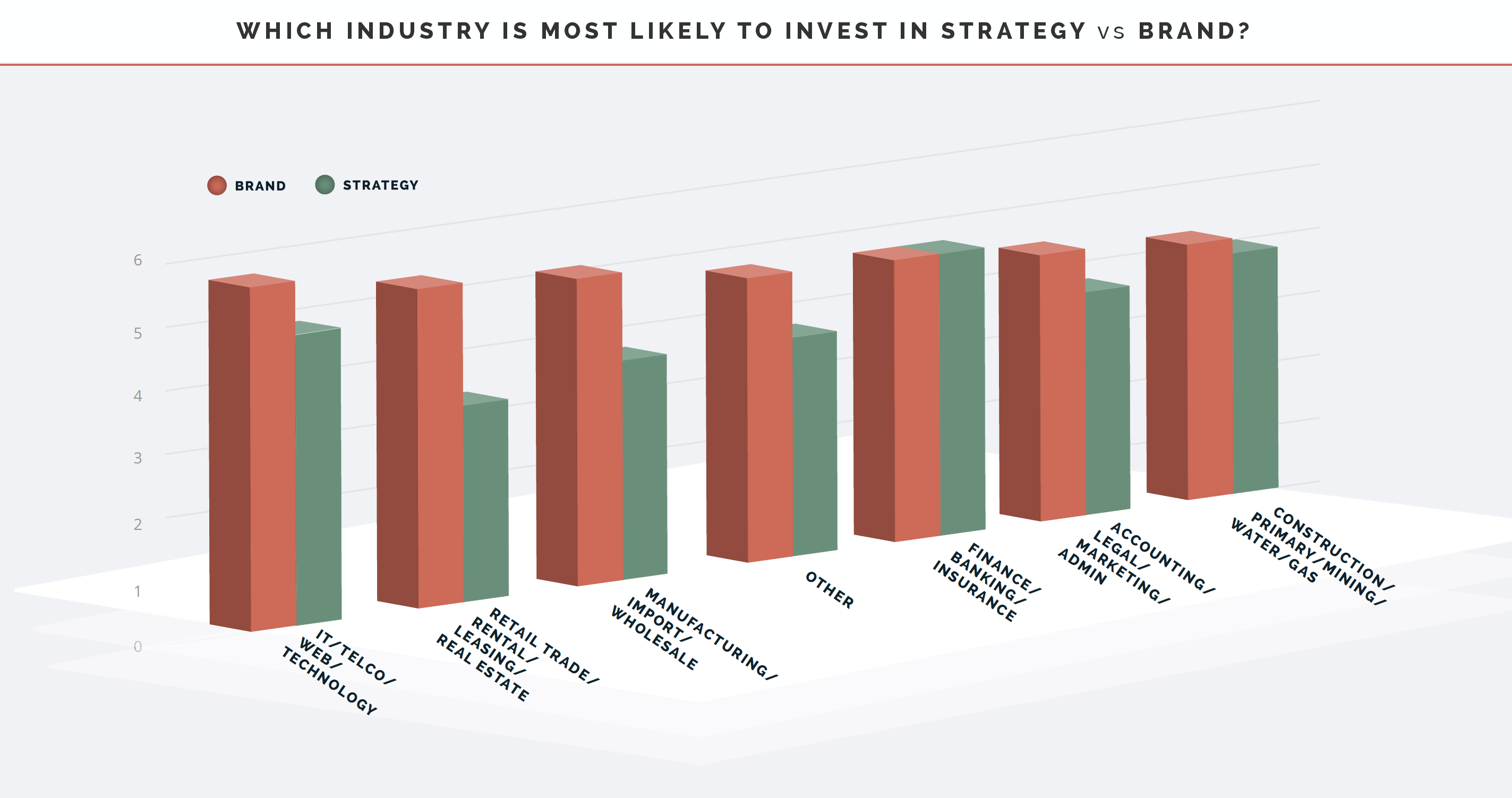 In the above graph, we see the industries that have caught on this trend. It isn't surprising that IT/Telco industries are investing the most in their brands and their strategy. Technology and web brands know that in order to win, they need to be selective over where to deploy their resources, and they need to build a brand that makes the intangible tangible.
Robert Steers continued, "All industries can learn from Salesforce, Xero, Spotify, and Atlassian. They all stand up, lead, and represent a group of people (often called a tribe) and offer them a way forward. They started out by finding their 1,000 true fans. Interestingly, the industries that are most open to disruption right now — accounting and financial services — are less likely than average to invest in these trends."
The survey also found that CEOs and CMOS are seeing Video as a game changer. 27% of CEOs and CMOs said they were very likely to invest in video technology in 2018. This is a trend that has been growing for some time, as of 2017, online video accounts for 74% of online traffic.
Robert Steers, Partner at Step Change continuted, "People have loved video for over a century;  they're just consuming it through a different medium. People love videos because it is still the best way to tell stories. It isn't surprising to see a lot of businesses want to invest more in video.  In some segments, we saw it come closer to strategy on the priority list as companies aim to grow their brand using video and social media. What we know is that video shines through because it can be used across multiple channels. It can be used in email, one to one, on websites, or through advertising."
Contact Profile
Step Change
---
Step Change is a strategically-led digital creative agency – if that sounds like we do it all, its because we do. We have created a space where strategy meets creativity, working together to create a full ground-up digital offering to challenger businesses.
---
Robert Steers
P: (02) 8030 8655
W:
www.hellostepchange.com/
Keywords
41% of CEOs and CMOS were very likely to invest in their brand, and 27% in their strategy. VR, AR and Chatbots still a long way off.
Categories
Newsrooms
Sharing
More Formats
View QR Code